Stratherrick & Foyers News
Do you have any news, articles, letters, photographs and information about events? Do you have an amazing recipe you would like to share with the community? Do you have any gardening tips? The list goes on!
Please send anything you would like to share to:- strathnews@sfctrust.org.uk Please don't be shy, if you have an idea for an article, drop us an email at the address above.
Supplies of the News are generally made available at ….
Foyers Stores, Waterfall Cafe, Stratherrick Public Hall, Boleskine Community Care Hub.
Craigdarroch Inn, Whitebridge Hotel, Loch Ness Shores,
Foyers Medical Centre, Camerons Tea Room, Wildside Centre
Paper copies distributed via Stratherrick Primary and Foyers Primary Schools and with Boleskine Community Care staff. If you have difficulty finding a printed copy please email strathnews@sfctrust.org.uk
We will also post copies free of charge to local people serving in the Forces or otherwise compelled to live away from the area.
Please complete the attched photo consent form when submitting your articles.
Spring Magazine Special 2022 - Issue 31
Is available here!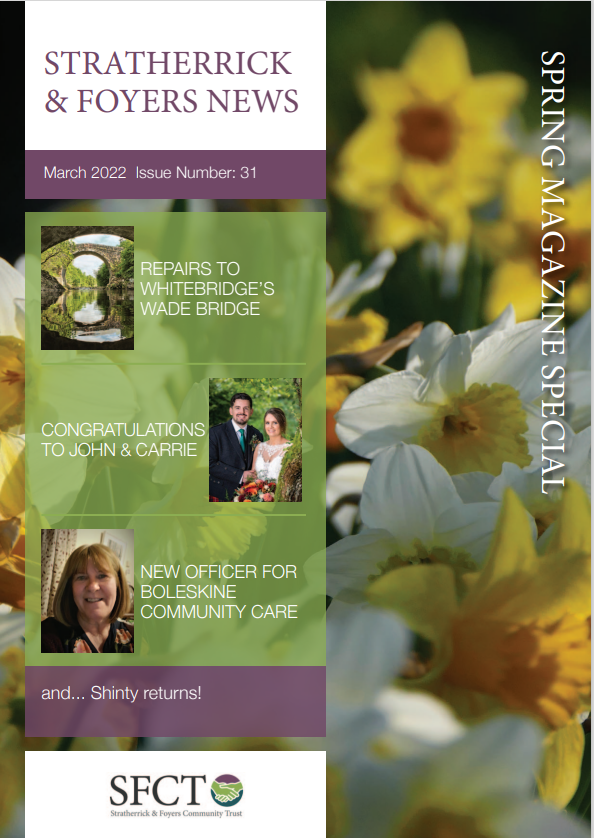 We are hoping to distribute this edition to every household in the Stratherrick
& Foyers area so keep an eye on it popping through your letterbox!
Autumn Magazine Special 2021- Issue 26
Read about it here!
May 2021 -ISSUE 22- Read it

here
December 2020 – ISSUE 18 – The Waterfall Issue –
This new and bigger issue has left A4 Printers in Inverness and is currently being distributed. (14 December 2020). There is no charge for the NEWS. Check the shop, café or pubs, plus the Medical Centre to collect your copy. If you have previously requested a paper copy to be sent to you it should be in the mail soon.
ARCHIVED ISSUES
2020
2019
December, September, June, March
2018
December, September, June, March
2017
December, September, June, March
2016