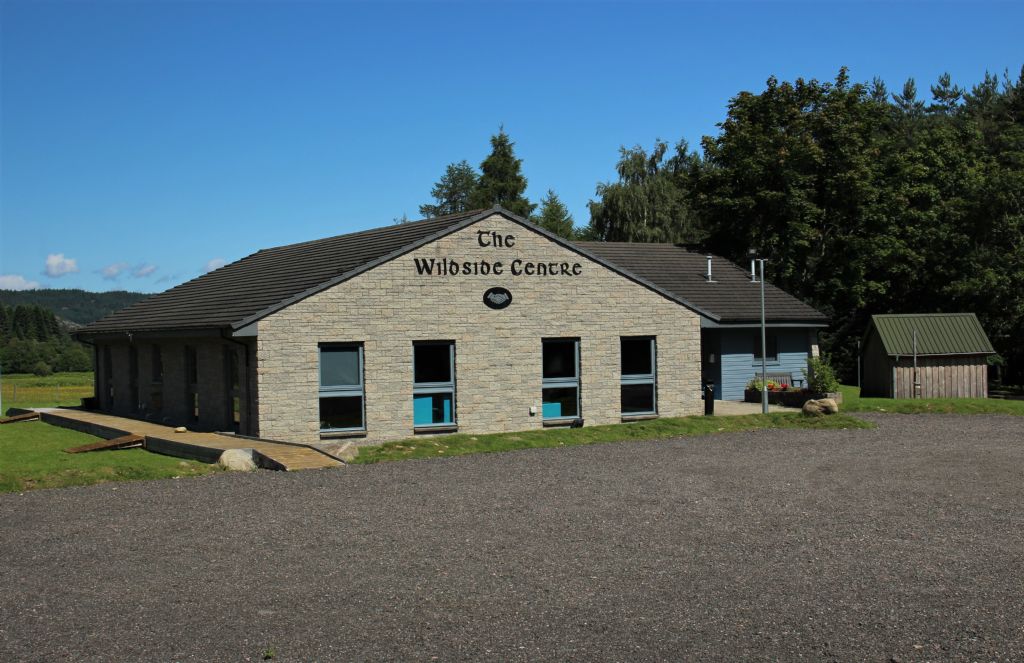 Welcome to The Wildside Centre Project page. Each week we intend to give you a regular Thursday update on how projects are progressing. Some weeks there will be lots of activity, others not so much. If you have any questions - or have knowledge and skills you would like to bring to the project please do get in touch with the lead Directors via the button on the right!
Latest update 30th June 2022
We have this week confirmed that our landscaping contractors will take on the maintenance of the lawn outside Wildside. We are also working towards having the blown windows replaced and are sourcing quotes to have the outside of the building painted.
We are pleased to note that Wildside Wednesday has been successful, and the feedback from those that have made use of it has been very positive. The Wildside centre will remain open on Wednesdays throughout the summer for those of you who would like to use it as a work or study space.
Latest update 9th June 2022
We are pleased to welcome Gail Marshall to the Trust team and she has taken on the role as cleaner for Wildside.
Latest update 19th May 2022
Discussions have begun about the possibility of purchasing the land adjacent to Wildside. One of the potential uses for this section of land is a new children's play area, and Kirsty and Caroline got together last week to begin looking into options for this.
We are pleased to see lots of different activities at Wildside just now - have a look at our What's on page to see what you can get involved with.
Latest update 12th May 2022
Thank you to everyone who came along to our first market on Saturday. The next market is on the 2nd July - if you would like a stall please email admin@sfctrust.org.uk.
Latest update 5th May 2022
We hope to see you on Saturday for our first Market of the year! There will be crafts, clothing, plants as well as locally produced food, and of course tea and coffee.
Wildside is now open on a Wednesday to use as office or study space. Please come along if you fancy a change of scene from working from home.
Latest update 21st April 2022
Wildside is a hive of activity! Last weekend we hosted a wedding, and this weekend it is a pit-stop for Etape Loch Ness!
Don't forget that we are also hosting a Crafters and Crofters market on the 7th May - you can find out more information on this here.
Latest update 7th April 2022
The steering group met last week and discussed operational matters along with our vision for the building. If you would like to find out more about what was discussed, and get involved, please contact Catriona by emailing catriona-dir@sfctrust.org.uk
Latest update 31st March 2022
We look forward to seeing you at this evening's Steering Group meeting. Please come along and share your views on what you would like to see at Wildside.
Latest update 24th March 2022
We will hold our next meeting on Thursday 31st March - look out for more details on our website and Facebook page. On the agenda will be improvements to the grounds, the marquee and the inside of the building. If you would like to join the meeting, please email Kirsty-dir@sfctrust.org.uk
Latest update 17th March 2022
We were very pleased to host Soup to Go's 1st birthday celebrations on Monday! You will be able to read more about the party in the upcoming newsletter, but in the meantime you can read more about how Soup to Go came into being here.
Latest update 3rd March 2022
A new Steering Group meeting date has yet to be agreed - will let you know of this shortly.
Latest update 24th February 2022
We pleased to let you know that the new wheelchair-accessible path around Wildside is now complete! Thank you again to Michael and Mark for all of their hard work on this - I hope you agree that it is a fantastic asset to the area.
Unfortunately tonight's Steering Group meeting has been postponed - we will let you know when a new date is arranged.
Latest update 10th Febuary 2022
Unfortunately the weather has left its mark at Wildside over the last week or so - Michael and Mark have not been able to put the finishing touches on the path, so please be advised that it is not quite finished if you are using it.
The high winds have also caused some damage to the marquee, and we are sourcing some information on how it can be repaired.
Latest update 27th January 2022
The path is coming along nicely and should be finished over the next few days. Thank you Michael and Mark for all of your hard work on this.
We have a date for our next Steering Group meeting - Thursday 24th February at 7pm and will be a hybrid meeting. If you have not received your invitation and would like to attend please email Kirsty on kirsty-dir@sfctrust.org.uk
Latest update 20th January 2022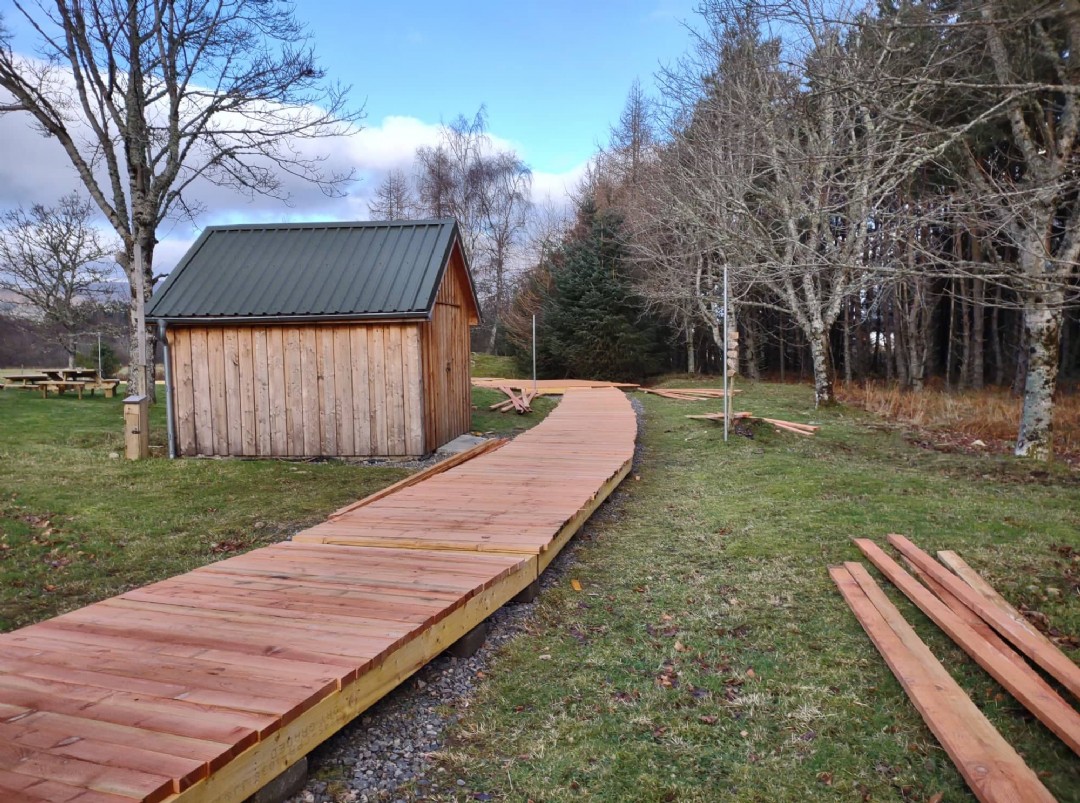 Caroline paid a visit to Wildside this week to check out the progress of the new path - it's looking great! Kirsty and the team are keen to progress with the next phase of landscaping around the building, so if you have any ideas that you would like to share, or help with, please contact Kirsty by emailing kirsty-dir@sfctrust.org.uk.
Latest update 13th January 2022
Work has begun in earnest on the new path around the Wildside centre, and this is due to be completed by the end of this month. We hope to schedule a Steering Group meeting very soon to discuss the next phase of landscaping. If you have any ideas for changes and developments to Wildside and the surrounding area, please let Kirsty know by emailing kirsty-dir@sfctrust.org.uk.
Latest update 16th December 2021
We held another successful community event at Wildside at the weekend - thank you to our events team for all of your hard work organising Winter Wonderland! Thank you also to all of our community groups and volunteers for helping make the event happen.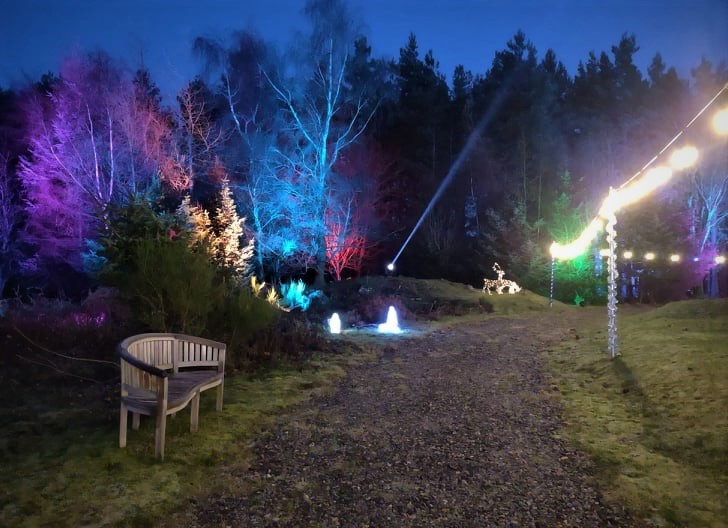 We are also pleased to let you know that materials have begun to arrive for our new pathway, so hopefully work will begin on this soon.
Latest update 2nd December 2021
Wildside is beginning to look festive as we begin setting up for next weekend's Winter Wonderland event! If you would like to get involved in any way, please contact Caroline at pc@fctrust.org.uk and she will find you a job to do!
Talking of jobs, we are currently advertising for a Buildings & Facilities Officer. If you would like to know more, please visit our Contracts for Work page here.
Latest update 25th November 2021
Attention this week for both staff and Directors of the Trust has been on preparation for the AGM and the launch of the CAP, which you can now read online. If you attended the AGM, you will have heard Kirsty's update on this project and we will continue to notify you of further progress here on a weekly basis.
Latest update - 18th November 2021
We are pleased to announce that Wildside received its Public Entertainment licence this week, which is valid until November 2024. Thank you to Steven for all of his work on making this happen!
Latest update - 11th November 2021
Jillian and Caroline met with Michael this week to discuss the new path for Wildside. Work is due to begin shortly after Winter Wonderland, with a view to be completed by the end of January 2022. Naturally this may be a little dependent on how much snow we get!
The Owl was in use again this week to host a meeting between the Trust and the Community Council. If your community group would like to make use of this facility, please contact Laura on admin@sfctrust.org.uk to book the Board room.
Latest update - 4th November 2021
We are pleased to announce that Michael Margetson has been awarded the contract to complete the new pathway around Wildside, which will be fully accessible to wheelchairs and pushchairs. The team will be meeting with Michael next week to put a plan together for commencing works.
The events team have also been busy working on the upcoming Winter Wonderland event. If you would like to help with the event (maybe you could be an elf?) or could spare an hour to help with the decorations we would love to hear from you! Please contact Jillian on jillian-dir@sfctrust.org.uk or Caroline on pc@sfctrust.org.uk and let us know how you can help.
Latest update - 28th October 2021
The lights in the car park at Wildside have recently been reviewed, and instead of being on permanently they are now set to a timer. This means that they will now only come on at set times.
We are pleased to have awarded the contract for phase 1 of our Landscaping Project to a local business, and we are hopeful that work will begin shortly on upgrading the path around the building. Thank you to all local businesses who put their name forward for this project.
Latest update - 12th October 2021
This week we have put Phase 1 of our landscaping project out to tender. If you would be interested in being considered for this contract, more information can be found here.
As part of the conditions for our Public Entertainment Licence, we are expecting some new road markings at the entrance to Wildside, along with some new signage. The road markings are due sometime this month, so please be aware of possible temporary disruption in the area.
And finally, please remember that SFCT will be holding their AGM on Wednesday 24th November, here at Wildside, or on Zoom. More information will be circulated shortly.
Latest update - 30th September 2021
We are pleased to let you know that alongside this year's Winter Wonderland we will also be hosting a Christmas Market. If you would like a stand at this event, please contact Caroline by emailing pc@sfctrust.org.uk or Steven at clo@sfctrust.org.uk.
Further event information, including how to book your slot with Santa, will be circulated soon.
Latest update - 23rd September 2021
The events team met today to discuss how Winter Wonderland will take shape this year. Ideas are flowing, and planning has begun. The event will run over Friday 10th and Saturday 11th December, and there will something there for everyone!
We will shortly be going out to tender for phase 1 of our Landscaping Project (upgrading the path around the building). If you would be interested in tendering for this work, please contact Caroline by emailing pc@sfctrust.org.uk. We are also have other openings available within the Trust - please visit our Contracts for Work page for more information.
Latest update - 16th September 2021
Following a meeting last week, we have now been granted our Public Entertainment Licence for Wildside, pending the meeting of certain conditions on the premises. We will be working in close collaboration with the Highland Council to get this work done as quickly as possible.
Latest update - 9th September 2021
Following our Steering group meeting last month (thank you to all who attended), we are beginning to look at possible improvements to the landscape surrounding the Wildside Centre. Phase 1 of these improvements is to upgrade the path around the building to make it wheelchair friendly, and we have begun research into the most suitable materials for this. If you have any ideas, or would like the opportunity to tender for this work, please get in touch with Kirsty!
Latest update - 26th August 2021
Our OWL is due to arrive today! This is not a new pet for the Trust, but a 360 degree smart video conferencing camera, speaker and microphone. As we work towards hosting Board meetings at Wildside again in person, this will enable those that cannot make it to still be able to be involved.
Our new online booking system is now live - please email Laura at admin@sfctrust.org.uk for more information if you would like to book any of the space available at Wildside.
Latest update - 19th August 2021
We have been working very hard on a new online booking form for booking space both within the Wildside Centre and also the grounds (and marquee) surrounding the building. We are hoping this will be launched very soon, making it much easier for community members and groups to book the facilities.
The Wildside Landscaping Team earlier this week to discuss the progress that has been made so far, suggestions from the wider community that were submitted at the Gala day and to action a plan for future works needed in the centre's grounds to make it an even better place to enjoy.
So far the lawn area has been stablished, and has been a welcome addition to the outside space – having a flat, grassy area for groups to play on or outside benches to extend the seating areas. The marquee is now fully functional and can be booked out to use as an outside space or as additional space if needed for events etc. There is also an artificial grass floor, which can be rolled back if required, making it more multi-functional and fit for many uses. Higher Ground landscapers regularly visit the site to trim the grass and control the weeds. We have also cleared the broom to the rear of the building, opening up this ground to new possibilities.
Many of you contributed great suggestions and feedback onto our Wildside map at the Gala day. When the team met, we discussed all the ideas and grouped them into different categories; 'Essential Upgrade' included things like installing fully disable access paths around the building and more storage space. 'Devolved to Groups' included some suggestions like a Micro-Brewery or vegetable garden where we would hope a group of enthusiasts might like to pick this mini project up and drive it forward. 'Next Projects' included decked areas, bandstand, pergola and an outdoor stage. There were also suggestions like nature trails, bird boxes and playpark, which we grouped together as projects for the team to take forward next. Finally, there were some longer term suggestions that we categorised as 'Potential Future Projects' which included outdoor toilet facilities and an additional foyer to the front of the building. The team's next step is to speak to our Project Co-Ordinator Caroline and come up with a robust action plan.
If you are interested in any of the areas detailed above please get in touch to offer your feedback or support, we would love more people on our team.
Latest Update- 2nd August 2021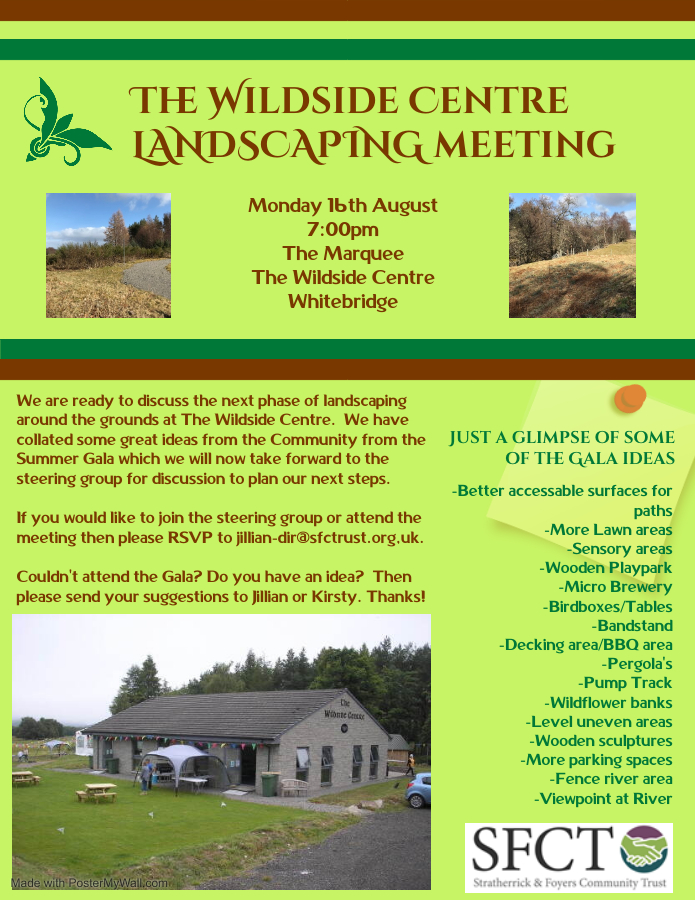 Latest Update- 9th July 2021
The good news is that we have managed to achieve our first 3 goals as part of the Landscaping team for Wildside!
-The lawn is now sown and if you have not already noticed, the grass is growing! A massive thank you to Bob Main for his fantastic work on this and Peter for his dedication to mowing and caring for the lawn!
- We now have 6 fabulous, solid benches that we can now use around the grounds at Wildside, we will try and pop them in appropriate places over the coming weeks. A big thank you to Mike for these.
-The whin bushes are now cleared at the back of the building so we can see what a great opportunity we have in this area now. Thank you Graham for all your work on this!
The marquee has now been erected and available to use for the community, so please email Laura at admin@sfctrust.org.uk if you would like to book the outdoor space or indeed the indoor space as well.
Higher Ground have been contracted to carry out the ground works at Wildside so they will continue to keep the grounds looking good over the coming months as we come into the next stage of the Wildside developments.
The Summer Gala is to take place on Saturday 24th July at The Wildside Centre, and the Trust are having a stand at the event. We think this is a fantastic opportunity for the Community to see the potential in the grounds at Wildside, so we are hoping to have a large map of the grounds where members of the Community can come and put their ideas onto the map.
If you are attending the Gala, please have a chat with some of the directors and note down your ideas. If you cannot make it to the Gala, then please just send on any ideas to kirsty-dir@sfctrust.or.uk or jillian-dir@sfctrust.org.uk at any time. After the Gala, we will then analyse the feedback and drill down the most sought-after ideas. We will discuss with the steering group how we will progress and what our next steps at our next meeting. Date TBC.
Latest Update- 15th March 2021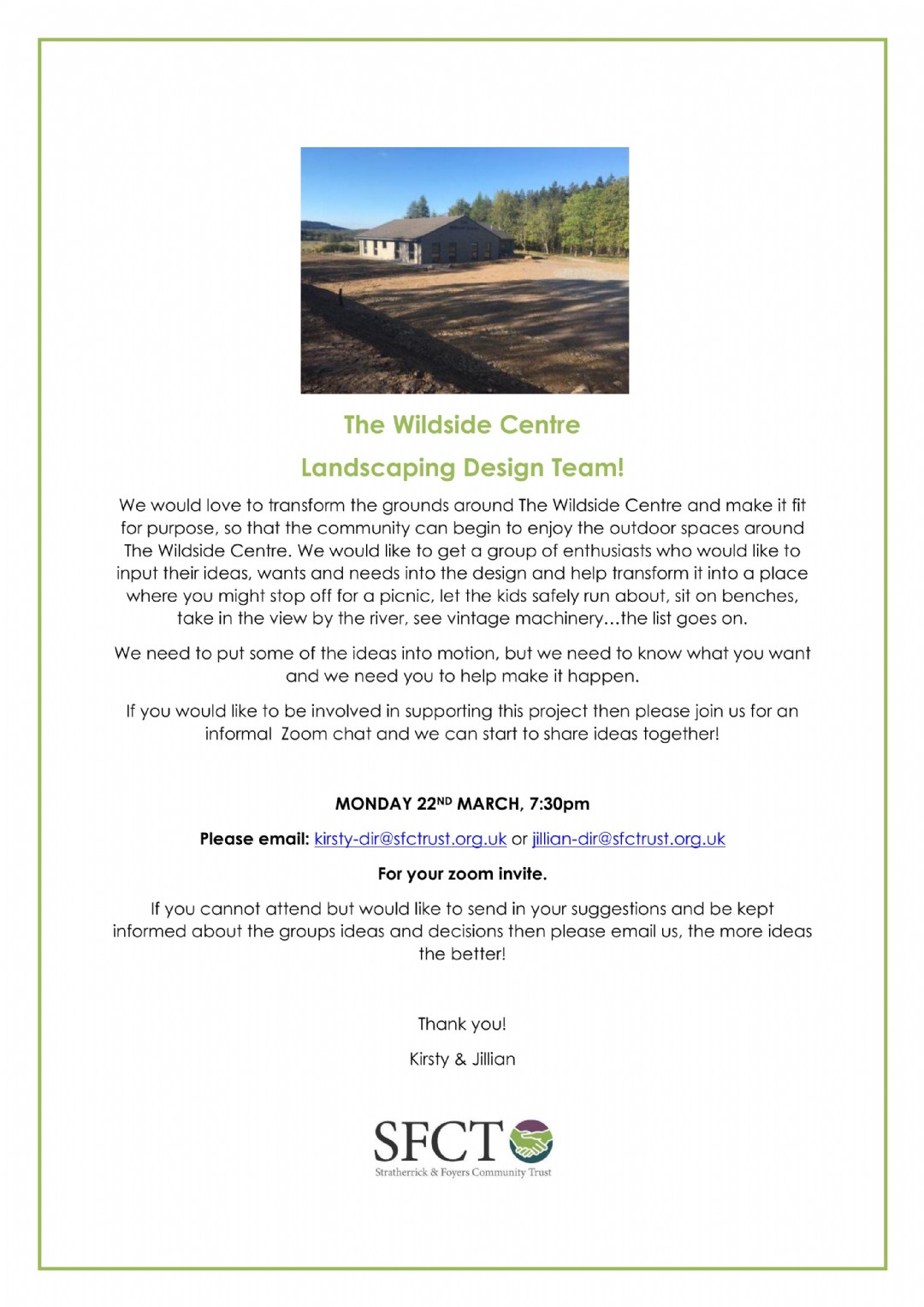 We would love to transform the grounds around The Wildside Centre and make it fit for purpose, so that the community can begin to enjoy the outdoor spaces. We would like to get together a group of enthusiasts who would like to input their ideas, wants and needs into the design and help transform it into a place where you might stop off for a picnic, let the kids safely run about, relax on riverside benches, take in the view of the beautiful scenery, see vintage machinery…the list goes on.
We will put a number of ideas into motion, but we need to know what you want and we need you to help make it happen.
If you would like to be involved in supporting this project then please join us for an informal Zoom chat and we can start to share ideas together!
The meeting is on MONDAY 22ND MARCH at 7:30 pm. Please email: kirsty-dir@sfctrust.org.uk or jillian-dir@sfctrust.org.uk for your zoom invite.
If you cannot attend but would like to send in your suggestions and be kept informed about the groups ideas and decisions then please email us, the more ideas the better!
Latest Update-August 2020
Directors at SFCT have taken the opportunity to give the Wildside Centre a facelift during the recent period of closure. Redecoration, new flooring and some appropriate furniture has all been installed (many thanks to Stratherrick Hall Management Committee for the kind loan of chairs and tables over the past months!), whilst the car park has been cleared and extended. Whilst the building was structurally very sound, finishes and decorations hadn't been touched for almost thirty years, so a "facelift" was long overdue. In addition, we have looked at various heating systems and taken professional advice on the most appropriate and economic way to address the need – hopefully a "warm welcome" will soon be offered! We plan to have an "open day" as soon as possible, subject to Government restrictions, so that everyone can come along and have a look around. We hope you will be pleased with the results of our efforts to make the Wildside Centre a facility all our Community can be proud of! An "online" booking system is being investigated and this should make booking a room, or indeed the whole building, much easier and quicker. We'll keep you updated through all the usual channels and look forward to welcoming all the regular groups, and hopefully some new ones, back to Wildside!
1st March 2020
The Wildside Centre is now the Trust's Registered Office and will soon have an enlarged carpark with a good surface and we hope to have lights installed in the carpark before next winter. The awful weather we have had in January and February has meant that the groundworks had to be delayed until mid-March. As well as creating a decent carpark the groundworks involve levelling the ground between the building and the river and creating an accessible path round the building and down to a lovely grassy spot by the river. It will take a while for the grass to grow, but with time we hope to have an extensive area for sitting out. We have already purchased 2 wooden benches in anticipation of the summer sunshine.
Anyone visiting the building will see the transformed Board Room. This was the room whose walls were covered with an extensive mural. It made for a very dark room and we are extremely grateful for the considerable efforts of our past Chair who spent a week painting the walls white – 4 coats in all. It is now a lovely room – thank you very much Peter.
We also hope to have some new tables and chairs. If anyone wants any of the old desks please come and ask?
The building is being well used. We are pleased that the Youth Hub has been having monthly meetings, with more frequent meetings planned for the spring and summer. Wild Crafts, now hold monthly Craft days there. As new groups use the building we are happy for suggestions for improvements to the facilities. All groups will be glad to hear that we hope to get an efficient heating system installed over the summer, though this may cause a bit of disruption.
Anyone wishing to book The Wildside Centre can email the Trust at bookings@sfctrust.org.uk. The use of the Centre is free to Stratherrick and Foyers community groups but there is a fee for individual hire or for groups from further afield.
Update 20th December 2019
The results of the community consultation regarding the name of Wildside gave a resounding majority for the retention of the name -The Wildside Centre. Since the purchase of the property in the Spring the Trust has undertaken only essential repairs and made the building safe for public use. It is being well used by a variety of groups – Yoga, Mother and Toddlers, Singing Group, Lose lbs not £s, the Luvvies and in November all groups, who would ordinarily have been at Stratherrick Hall, decamped to Wildside allowing the Luvvies production to take place there. A successful craft day was held in November with plans to hold another in January and in December there was an inaugural meeting of the Youth Hub.
Wildside has become a base for the Trust. The monthly Board and other meetings are held there. Steven, in his new role as Community Liaison Officer is based there on a Tuesday so if any member of the Community wishes to speak to Steven and/or the Chair, they will be there every Tuesday.
The priority now is to install an energy efficient heating system and in the New Year work will be undertaken to create a car-park and landscaping with paths and grassed seating areas.
A booking system is currently being developed and further updates will be available in due course.
Update 19 August 2019
https://www.surveymonkey.co.uk/r/MZRCXX8
Do you have an opinion on what the future name of the Wildside Classroom building should be? The top four results in the recent consultation are as follows. The Fechlin Centre, The Thain Centre, The Wade Bridge Centre or the Wildside Centre. To register your vote, click the link above and take the survey – there is just one question to answer!
Update 29 July 2019
Thank you to the many residents who responded with ideas about how the Trust should make use of the Wildside Classroom building and site. Your responses are now being considered by the directors of the Trust. When the Stratherrick Public Hall was out of use recently for kitchen refurbishment many people had the opportunity of attending classes or groups at the Wildside Classroom. Comments included the possible benefits of the whole site as it has easy access to the outdoor areas and the river bank. Please check back here for more information shortly.
Update 29 April 2019
Thank you to so many local residents who came along for a good look at the building and site at Wildside Classroom on 27 April 2019. Many people were astonished at the great condition of the building and attractive area down towards the river.
The work undertaken to date is as follows
Cleaned roof, painted sofits and window frames, renewed three panes of double glazing, some internal paintwork, testing of electrics, new fire extinguishers and scraping vegetation from the car park area.
Feedback and ideas from the public are still welcome.
A closing date for comments will be announced soon. Here is a link to the tree questions which you may wish to answer.
Wildside Consultation Public Comment Sheet and Room Plan
DOORS OPEN DAY AT WILDSIDE CLASSROOM
Come along any time on Saturday 27th April 2019 from 10 am to 4 pm and see the building and site at Whitebridge for yourself.
Now in full community ownership!
We need local people to let the Trust know how they think this asset can best be used to improve community life and services in our area.
Former Wildside Classroom Building and Site
Update 9 April 2019
Activities relocate temporarily from Stratherrick Public hall to Wildside Classroom.
The amount of urgent repair work to the floor in the Stratherrick Public Hall is much greater than previously estimated, so it has been necessary to close the Hall for some users meantime. This will allow the local contractor to work without hindrance and complete his work quickly and efficiently.
Some community activities have transferred temporarily to the Wildside Classroom Building in Whitebridge. Please check that your class or event is still on with your group leader.
Peter Faye, Chair of Stratherrick and Foyers Community Trust said that it had been a great benefit that the Wildside Classroom building was available. The Wildside Classroom building is now owned outright by Stratherrick and Foyers Community Trust.
Peter added that Trust volunteers were relocating some of the Hall's chairs to the Wildside Classroom meantime. The replacement of the kitchen floor at Stratherrick Public Hall is also an opportunity to improve the kitchen units there. It will all be better before too long!
Update 6 March 2019
Site clearance and basic maintenance begins.
Additional information including a plan of the rooms is included in the March 2019 edition of the Stratherrick and Foyers NEWS.
Stratherrick and Foyers News
The following information was also featured in the Press and Journal dated 26 February and the Inverness Courier of 1 March 2019.
Update – 22 February 2019
Stratherrick and Foyers Community Trust has announced that the site is now in Trust Ownership. A press release is shown below.
Stratherrick and Foyers Community Trust purchases key village site at Whitebridge.
The Community Trust which serves most of the South side of Loch Ness has announced the acquisition of more valuable property. There are now four sites into local community trust's control.
Peter Faye, Chair of Stratherrick & Foyers Community Trust confirmed that the former Outdoor Centre Classroom at Wildside, had been purchased by the Trust from its current private owners ending years of uncertainty over a key site in the village of Whitebridge.
Peter said 'Community ownership guarantees the site will be used to benefit local people. There are precious few opportunities like this and the Trust is delighted with the purchase.' The former Outdoor Centre and the two-acre site has been mothballed for many years and private developers had proposed it be demolished to make way for five large houses on the site. Planning consent for the executive homes had lapsed so the Community Trust decided to make their move.
Peter Faye, who is in his second term as Chair of the local Trust added 'Energy firm SSE confirmed recently that the Trust will receive additional community benefit funds. These come from the Stronelairg windfarm which is located entirely within the Stratherrick and Foyers boundary. Our Trust board felt confident in buying the former Wildside Outdoor Centre outright. We can now consult our residents on how the area might be best used. Options include refurbishing the building which is in remarkably sound condition and developing the remainder of the site in a way that supports our community here. Ideas include housing, units for the use of self-employed people, a community timber yard and a recreation pitch. The site is big enough that even a micro-brewery could be considered. This community needs facilities and employment opportunities. The last thing we needed on this site was five new executive houses!'
Stratherrick and Foyers Community Trust also owns a field earmarked for recreational facilities at Lower Foyers. Development plans are currently being drawn up by the Trust's architect. Stratherrick and Foyers Community Trust also leases a large neglected area of former commercial land on Loch Ness-side from SSE which the Trust plans to regenerate. The fourth property in the Trust's portfolio is the Industrial Units at Foyers. These two units have now been refurbished and brought back into use as a centre for local care organisation Boleskine Community Care. The Trust provides the premises at a nominal rent.
Peter concluded 'The Wildside Centre site is unique. It is close to the famous Wade Bridge at Whitebridge and has direct access to the B852 public road. It is on our bus route and handy for the Whitebridge Hotel. Purchasing this land is a big step for the Stratherrick and Foyers Community Trust. Local people now have an opportunity to use the land and building to support their own community – for ever.'
Public 'Doors Open' Days will be held during March to allow people to look round the building. It has not been used for anything for 18 years.
Wildside Update – 7 January 2019
Readers may recall that the Trust Chair Peter J Faye intimated to the AGM last November that Stratherrick and Foyers Community Trust was looking to purchase the outdoor centre site and building at Wildside, Whitebridge at an advantageous price and subject to all the necessary checks being completed and satisfactory. The property is currently in private ownership. To avoid mis-information, Peter gave a commitment to updating the community on any progress.
Since November the Trust and has been in repeated contact with the selling agents. Whilst no deal has currently been concluded with the seller, the Trust remains confident that a satisfactory outcome will be reached in due course. It is expected that the funds recently allocated to the Trust from SSE's windfarm at Stronelairg will be used to purchase the property for community use.
Any future news of the outcome of the attempt to purchase the former outdoor centre at Wildside will be posted on this website.
Project Timeline
Aug 20 Facelift of building and carpark Mar 20 Open for Bookings Dec 19 Consultation of Building Name Feb 19 Announcement of ownership