COVID-19 Support
Since the COVID pandemic hit in March 2020, SFCT have been working in partnership with the Community Council, Boleskine Community Care, and The Knockie Trust to help deliver assistance to those affected by the pandemic under the 'The Brolly Group'. A range of help has been made available and continues to be. We will continually update you on any changes, new schemes and direct you to the best help available.
Latest Update- 25th March 2021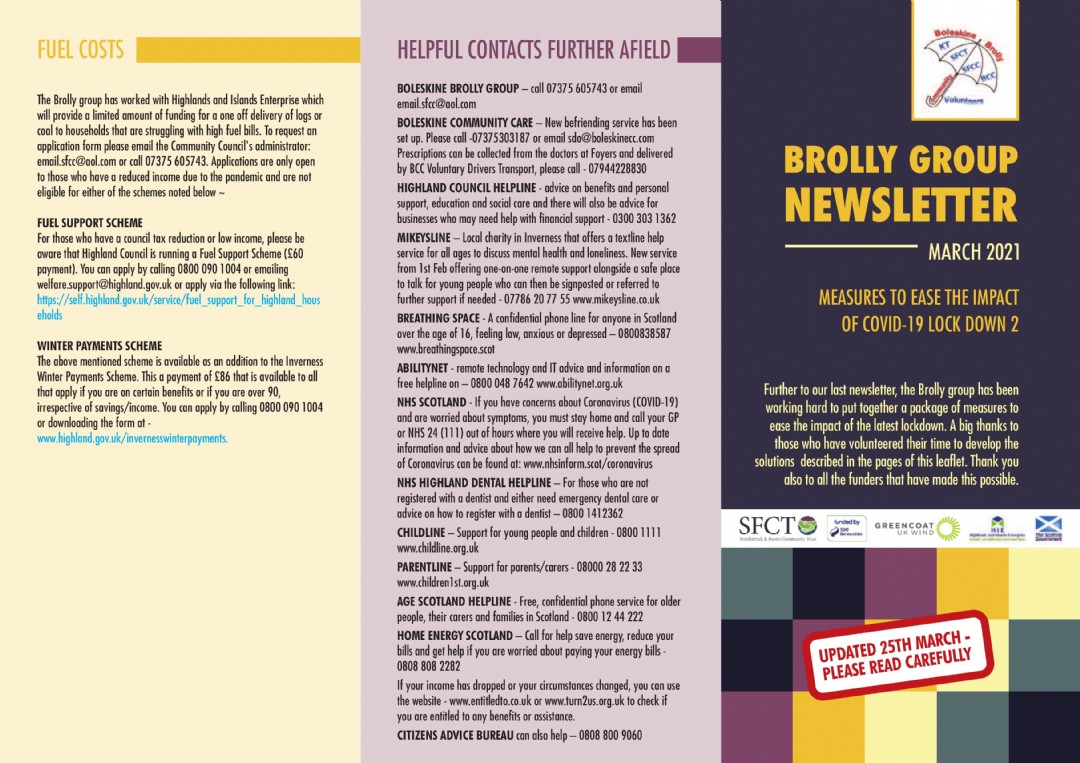 Latest Update- 12th March 2021
The Directors at the Community Trust have been working hard with the Community Benefit funders to put together a package of financial help for families struggling with their household bills. The results of a recent survey, carried out with the Brolly Group to establish how the support could be best targeted, showed that many people in the area are struggling with household expenses made worse by the recent extreme weather. The details are as follows:
Loss of Earnings
The financial assistance that ran this time last year has been re-opened. This provides regular payments to households who have seen their income severely reduced. It is available to people who fall into the following categories: Currently awaiting payment of Universal Credit, receiving Universal Credit, furloughed and earning £10 an hour or less and have lost 20% of your income, self-employed but not eligible for Self-Employment Income Support or in receipt of SEIS but receiving the equivalent of £10 an hour or less, pensioners who have lost part time earnings: If you fall into anyone of these categories then please contact the administration team at the Trust using this email address: admin@sfctrust.org.uk.
Household Expenses
A new scheme has opened for people that are finding it extremely difficult to meet their household expenses, which have for many people been a lot higher because of the lockdown and the extreme weather. This takes the form of one-off payments to help towards fuel and utility bills. This scheme is being managed by The Knockie Trust and if would like help then please get in touch using this email address: fionahbateman@icloud.com
Financial Hardship
The long-standing scheme run by the Knockie Trust for people suffering severe financial hardship has been extended. Individuals will receive up to £500 to pay for household items that are beyond your reach. if would like help then please get in touch using this email address: fionahbateman@icloud.com Please be assured that all applications will be kept in strictest confidence.